Overview
More than 20 percent of patients visit foot specialists because of heel pain, and approximately one-third of all patients I see come because of this problem. Over 50 percent of Americans will experience heel pain during their lifetime. The most common form of heel pain is known as plantar fasciitis or "heel spur syndrome." The plantar fascia is a thick ligament on the bottom of your foot spanning from your heel to the base of your toes. It supports the arch and several muscles under the bones that support the foot. Overtime, most people will develop some degree of calcification within these muscles on the bottom of their heel called a "spur."
Causes
Age plays a large role in the development of heel pain, particularly among those over 40. Being active is also a common factor of heel pain. Over time, the elasticity of the tissue in our feet decreases with age, causing us to become prone to damage and also slowing the body's ability to heal damage. Adolescents are also not immune to heel pain. Those who are active in sports are particularly prone to excessively stretching or straining the plantar fascia or Achilles tendon, causing severe heel pain. In most cases, heel pain develops in only one heel. There are many risk factors that lead to heel pain. Abnormal gait and excessive, repetitive stress are common factors in the development of pain and damage. Among the other risk factors involved with the development of heel pain are repetitive exercise or activities, such as long distance running or jumping from activities such as basketball. Obesity. Walking barefoot on hard surfaces. Prolonged standing. Wearing poor fitting shoes, or shoes that do not provide enough support or cushioning. Not stretching properly or at all before and after exercise. Those who are on their feet for long periods of time.
Symptoms
Pain typically comes on gradually, with no injury to the affected area. It is frequently triggered by wearing a flat shoe, such as flip-flop sandals. Flat footwear may stretch the plantar fascia to such an extent that the area becomes swollen (inflamed). In most cases, the pain is under the foot, toward the front of the heel. Post-static dyskinesia (pain after rest) symptoms tend to be worse just after getting out of bed in the morning, and after a period of rest during the day. After a bit of activity symptoms often improve a bit. However, they may worsen again toward the end of the day.
Diagnosis
Your doctor will perform a physical exam and ask questions about your medical history and symptoms, such as have you had this type of heel pain before? When did your pain begin? Do you have pain upon your first steps in the morning or after your first steps after rest? Is the pain dull and aching or sharp and stabbing? Is it worse after exercise? Is it worse when standing? Did you fall or twist your ankle recently? Are you a runner? If so, how far and how often do you run? Do you walk or stand for long periods of time? What kind of shoes do you wear? Do you have any other symptoms? Your doctor may order a foot x-ray. You may need to see a physical therapist to learn exercises to stretch and strengthen your foot. Your doctor may recommend a night splint to help stretch your foot. Surgery may be recommended in some cases.
Non Surgical Treatment
If you develop heel pain, you can try several methods at home to ease your discomfort. For example rest as much as possible, apply ice to the heel for 10 to 15 minutes twice a day, use over-the-counter pain medications, wear shoes that fit properly, wear night splints, a special device that stretches the foot while you sleep, use heel cups or shoe inserts to reduce pain, If these home care strategies do not ease your pain, you will need to see your doctor. He or she will perform a physical exam and ask you about your symptoms and when they began. Your doctor may also take an X-ray to determine the cause of your heel pain. Once your doctor knows what is causing your pain, he or she will be able to provide you with the appropriate treatment. In many cases, your doctor may prescribe physical therapy. This can help to strengthen the muscles and tendons in your foot, which helps to prevent further injury. If your pain is severe, your doctor may provide you with anti-inflammatory medications. These medications can be injected into the foot or taken by mouth. Your doctor may also recommend that you support your foot as much as possible-either by taping the foot or by using special footwear devices. In very rare cases, your doctor may recommend surgery to correct the problem. However, heel surgery often requires a long recovery time and may not always relieve your foot pain.
Surgical Treatment
It is rare to need an operation for heel pain. It would only be offered if all simpler treatments have failed and, in particular, you are a reasonable weight for your height and the stresses on your heel cannot be improved by modifying your activities or footwear. The aim of an operation is to release part of the plantar fascia from the heel bone and reduce the tension in it. Many surgeons would also explore and free the small nerves on the inner side of your heel as these are sometimes trapped by bands of tight tissue. This sort of surgery can be done through a cut about 3cm long on the inner side of your heel. Recently there has been a lot of interest in doing the operation by keyhole surgery, but this has not yet been proven to be effective and safe. Most people who have an operation are better afterwards, but it can take months to get the benefit of the operation and the wound can take a while to heal fully. Tingling or numbness on the side of the heel may occur after operation.
heel spur exercises
Prevention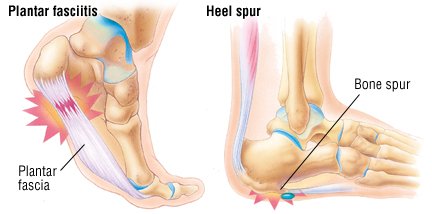 Make sure you wear appropriate supportive shoes. Don't over-train in sports. Make sure you warm up, cool down and undertake an exercise regime that helps maintain flexibility. Manage your weight, obesity is a factor in causing plantar fasciitis. Avoid walking and running on hard surfaces if you are prone to pain. You should follow the recognized management protocol "RICED" rest, ice, compression, elevation and diagnosis. Rest, keep off the injured ankle as much as possible. Ice, applied for 20 minutes at a time every hour as long as swelling persists. Compression, support the ankle and foot with a firmly (not tightly) wrapped elastic bandage. Elevation, keep foot above heart level to minimize bruising and swelling. Diagnosis. Consult a medical professional (such as a Podiatrist or doctor) especially if you are worried about the injury, or if the pain or swelling gets worse. If the pain or swelling has not gone down significantly within 48 hours, also seek treatment. An accurate diagnosis is essential for proper rehabilitation of moderate to severe injuries.